the piece 
In This Country, Comrade (a collation) / I Detta Land, Kamrat (en kollationering) is a reading performed by three voices and three bodies in a scenography. The relationship between the readings, which will fill the gallery space each Sunday during the exhibition period, and the otherwise deserted set design encapsulates the thematic gap between form and content that constitutes the main question of the piece: where is the political in politics today? 
In This Country, Comrade oscillates between the factual and the poetic, and addresses the longing for a political vision in an increasingly market-controlled and populist social discourse. Are nostalgia and melancholy a potentiality or a danger within politics? And what are the possibilities for humans to find a common way forward today? 
The manuscript takes its point of departure in Swedish socialist poetry from the 20th century, political statements from folkhemmet ("the people's home"), fragments from contemporary essays and articles and material from the Swedish parliament homepage. The result is a composition in four parts, which consist of both pre-existing texts that put in these new constellations produce different readings, as well as new writing generated in the meeting between them. 
The main title is borrowed from Svante Forster's poem of the same name from 1976. The concept "collation" in the subtitle refers to the point in a theatre production where the different character roles are cast and the manuscript is read through for the first time by the performers. In this context, it relates to the dispassionate way in which the sometimes emotional script is delivered; an approach which aligns with the general theme of the piece.
the readings 
take place at Galleri BOX on the 4th, 11th, 18th and 25th of October. On these dates the gallery will open at 12PM and the readings will begin  at 1PM. They are followed by an informal conversation with the artist for those so inclined. Given the current situation, the audience on each reading is limited to 15 people and pre-booking is required. This can be done either in person at the gallery or through the website www.galleribox.se. 
On intermediate days, the exhibition/scenography is open to the public on the following hours: Tuesday-Friday 1 PM-5PM, Saturday 12PM-4PM.
participants 
text and scenography: Annika Lundgren
readings: Tove Posselt, Ellen Skafvenstedt and Annika Lundgren 
Publications and Files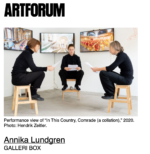 Recension i ARTFORUM.
87.2 KB
Download ( pdf )