In the exhibition Freikörperkultur (Free Body Culture) Tobias Sjöberg works with ideas of nakedness from a metaphorical, philosophical and poetic perspective. The exhibition title refers to Sjöberg's exploration of different views on and meanings of nakedness, maybe especially by emphasizing the body as freed from something. His non-pictorial position frees the nude and the naked body from its art historical relation to illustration and corporeality. Instead of discussing the naked as arrested movement, his performative and often ephemeral works undress and lay bare different kinds of boundaries and the act or endeavor of transcending them.
Sjöberg's works leave material and immaterial traces; a line of thought that is based on tactility and motion and leads to a proprioceptive experience. Something that, although fleeting in character, does not really disappear, but rather digs itself into us and searches for what remains of the seen as well as for what remains unseen. What is left when constructions, points of reference, orientation lines and demarcations one previously sought to relate to, are deconstructed?
Text: Kristina Lindemann
Tobias Sjöberg (b.1979) lives and works in Stockholm. His work encompasses performance, painting and sculptural objects. In the last years he has come to approach terms such as boundary, limitation and boundlessness from a mental, social and philosophical angle but also through different forms of material aspects, through a material's transition from one state to another. For a long time Sjöberg has been working with different forms of unifying and isolating acts and the often invisible lines we draw between them. Situations in which solitary entities dissolve and merge with each other or – from a social perspective – where one is included in a joint "we" and at the same time creates a boundary towards the outer world.
For more information: www.tobiassjoberg.nu
1: Tobias Sjöberg, 2-7: © Hendrik Zeitler
Publications and Files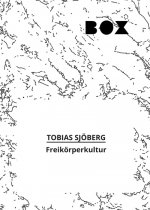 Download the publication released for the exhibition
2.3 MB
Download ( pdf )