In this duo exhibition Förna & tidevann, we meet two artists with a shared interest in the nordic landscape. Although Hannah Rosvoll and Julia Selin are both of the same age and recent graduates in Fine Art from Swedish art schools, as well as both living and working in the Nordic countries, their starting points in their practice differ from each other.
Julia Selin's paintings are based on the feeling of spending time in nature, a depiction that is as much physical as imaginative. Selin is using the canvas as a boundary for her performative approach; she tackles painting by letting her body be the primary tool to render the feelings she has, for instance when she walks across a bog.
Hannah Rosvoll finds a staring point in the nature that people have established a clear opinion about; the categorized, valued, functional nature. She works using materials that are skeuomorph – materials that emulate something organic in a non-organic place – where stone and wood are imitated through plastic or where feathers and fur are used for sports, bringing to mind a borderland between nature, romanticism and function.
The exhibition Förna & tidevann presents a series of new paintings by Julia Selin and sculptures by Hannah Rosvoll. Selin´s most recent project was the critically acclaimed solo exhibition Soft Ground (Marken sviktar) at Gallery Flach in Stockholm, including group exhibitions at Malmö Konsthall, Bildmuseet in Umeå and Trollhättans Konsthall. She received her Master's degree in Fine Art at Umeå Art Academy in 2013. Rosvoll recently produced a solo exhibition, Arranging objects at Window Gallery in Gothenburg and has previously shown work in group exhibitions at Göteborgs Konsthall, Kvarteret (Bergen), Repositioned (Glasgow) and Gallery Kit (Trondheim). Rosvoll runs a residencey program in the Norwegian village Sel, where she also lives and works. She received her Master's degree in Fine Art at Valand Academy in 2014.
The exhibition is curated by Fredrik Åkum
Welcome to the opening Friday November 21, at 18-21
For more information:
www.juliaselin.com
www.hannahrosvoll.com
Publications and Files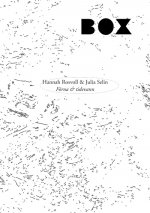 Download the publication released for the exhibition
3.2 MB
Download ( pdf )